From 17th to 18th of June, counsellors from "Tong Xin Yuan" left-behind children activities and volunteers from mobile arts class came to Heze City Dingtao District left-behind children's school to hold counseling sessions and arts classes. On 17th of June, counsellors from "Tong Xin Yuan" left-behind children activities came to Heze Dingtao district left-behind children's school and held psychological counselling activities for the school teachers. They first warmed up everyone with a name game, then divided the teachers into groups. After the group members introduced themselves to each other, they also gave their group a name and a slogan, then presented at the stage, which helped them become acquainted.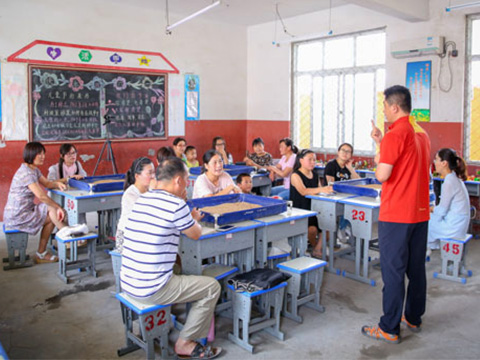 Under the guidance of the counsellors' music, teachers expressed their vision after hearing the music using sand tools. They first shared each of their visions in a group, and then team leader combined different stories together in one, and shared it to other teams. With depictions of their sand trays, they talked about their favorite moments in teaching, and experienced how effective this game is in discovering one's potential and relieving stress. They said they wanted to incorporate it in teaching.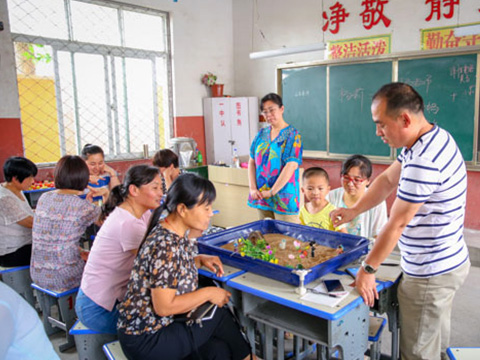 On 18th, the focus was turned to children. The class was still conducted with sand tray, using the theme of "A Happy Day", students were finished their tasks with their self-selected toys. The activity space was the canteen, as the school did not have classroom that was big enough for 10 sets of sand trays.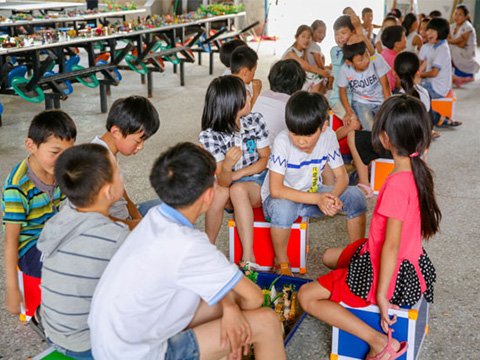 Once the students learned that counsellors from "Tong Xin Yuan" were here, they willingly gave up their breaks to assist with arranging the space, trays, and lined up in front of the canteen for their session. Although most children were laconic, they expressed how much they enjoyed "Tong Xin Yuan" with their action. We were happy to see that their eyes were lightened up with curiousity for the unknown; some students would even approach the counsellors before the class in anticipation.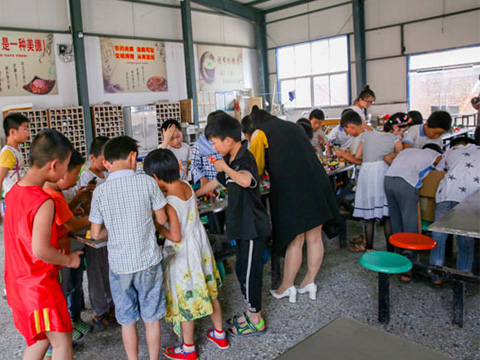 The students were immediately engaged with the sand tray class once it began. Much different from the class aim which was self-discovery, the theme this time was to let them focus on team spirit, so that they could identify their relationship with the team, feel trust first-hand, and find memorable details through the experience.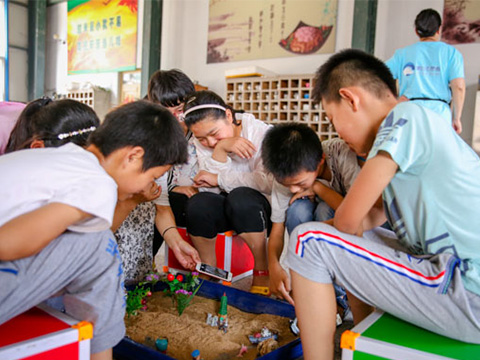 The counsellors spent the morning with students from first, second, third and forth grade, and the afternoon with students from three classes who were in fifth and sixth grade. The students felt happy, which was our biggest driving force and pursuit. The class made them realize the importance to work as a team, promoted communication in between team mates and improved their mutual understanding and strengthened their trust of each other.We believe that no matter in school classes or life, children will face difficulties, big or small with a better state of mind.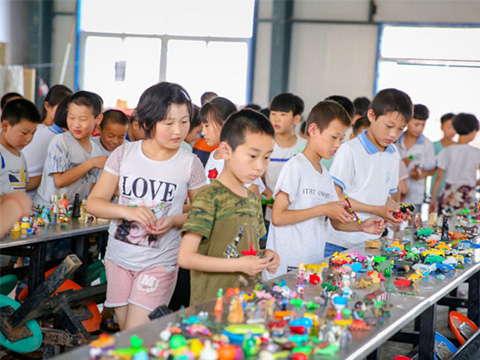 While the class of sand tray was going on in the canteen, in some other classes, children were having their long-awaited music class, and their beautiful singing voice went through the walls, echoed in the whole campus. The music teacher revised with the class what they had learnt last time We Are All the Same, and talked about some relevant topics as Father's Day was approaching. Because most children here were left behind by their parents who worked away from home, we could tell their sadness and how much they had missed them, which they did not say a lot. Although the children were much reluctant, the class had to end, and they soon began looking forward to the next class in the future. When the lunch bell rang, many students asked the counsellors, "Will you come back another time?" And their answers threw a big smile on their face, "That's great, we will see you again next semester." The smiles from the children and the volunteers are why we do what we do.