What We Do
Shinho Builds Our Business Around a Positive Food Ecosystem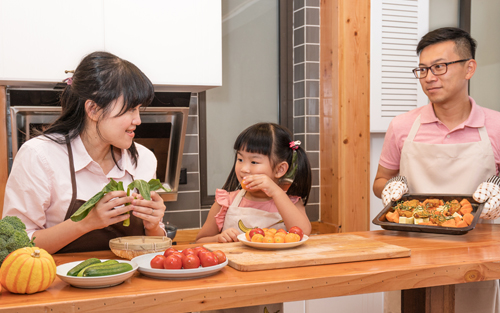 Since we put that first bag of humble bean paste on the shelf for our customers, our key focus has been for every household to eat well and eat safe. Shinho recognises the vital role food plays in our daily life: food supports our physical strength and satisfies psychological needs; Food bonds people together and optimises the quality of life we enjoy. This is why Shinho approach our business with a focus on building a positive food system. We improve the delivery process from farm to table, every step of the way, covering areas including plantation, food production and dissemination of food-related knowledge. Through this endeavour, we aim to engage with more people and nourish the environment our livelihood, as well as the livelihood of our future generations, depend upon.
Positive Food System
SUSTAINABLE AGRICULTURE

Sustainable agriculture is where we farm in a way that is respectful to the environment and the natural resources around us. Using chemical-free soil, natural pesticides, biological instead of chemical fertilisers is one way, as is using water responsibly and working to fair and equitable terms with local farming communities.

What We Do

Shinho Sunrise Harvest Farms were built in 2013, situate now in Shandong Haiyang and Shanghai Chongming. Both farms adopt sustainable organic farming methods. We started organic farming in the beginning to allow our employees to have access to organic vegetables. We soon discovered that we can help more people understand the meaning of organic farming. With other smallholder farmers who are also committed in organic farming, together we can create positive impact on our precious land, water and air.

RELIABLE FOOD SUPPLY CHAIN

We apply strict standards when we select ingredients and packaging materials. This is because we are responsible to our family and consumers. We do not compromise on quality to save on cost because we are in pursuit for the best and not the cheapest. It is those who are like-minded who become our partners and we join hands with those who are like-minded as partners to build a transparent and trustworthy food ecosystem.

What We Do

We use Shandong winter wheat and non-genetically modified Dongbei soybeans to produce soy sauce. These ingredients have to pass 222 stages of testing, conducted by CNAS (China National Accreditation Service for Conformity Assessment) certified lab. Our test lab is an industry leader with 506 accreditations from CNAS. It carries out tests on residues of pesticides, genetically modified micro-organisms, aflatoxin and heavy metal content, to list only a few.

INNOVATIVE RESEARCH AND DEVELOPMENT

We are a business founded in China and ready to play on the global stage. At Shinho, innovation goes beyond satisfying existing needs to exploring and creating new needs. We start by looking at the role of food in people's lives, we immerse ourselves in our consumers' world, and we look to the world for inspirations.

What We Do

There are 11 brands in the Shinho family and over a hundred different products. Every day, 40 million households are consuming condiments and snacks produced by us.

Every year, 100 million bottles of Shinho product are brought and become an essential part of family cooking. Shinho exports to over 100 countries and regions around the world including the United States, Canada, Japan, South Korea and Australia. Shinho receives increasing high acclaims from domestic and international customers.

Shinho provides solutions for large food companies and restaurant chains;we have developed hundreds of products tailored to their needs. We build strategic partnership with our business customers and add value to their operations.

INTELLIGENT MANUFACTURING

There is no room for negotiation when it comes to the safety and quality standards of how we make our products, and we work closely with our suppliers to ensure that these are not compromised. We also continually develop new capabilities and technologies in our factories so that we can maintain our high standards and break new grounds.

What We Do

Shinho put in place over 500 monitoring points throughout the production process. We meticulously scrutinise and test the quality and safety of the ingredients and finished products in every step, at every moment. Shinho offers professional advices and participates in the standard-setting process with over 40 countries and industries. Notably, Shinho made recommendations regarding reduction of salt content in sauces and reduction of the micro-organisms allowance level in soy sauce. We will continue to uphold INTELLIGENT MANUFACTURING and lead industry development.

CONVENIENT RETAIL CHANNELS

From delivery to your door to online shops and grocery stores, from towns and villages to big cities, from China to the world, we want everyone to be able to get to our products and services. We endeavour to be as wide in reach and as inclusive and accessible as possible, so that we impact as many people as we can, and be an integral part of their daily lives.

What We Do

As part of the Shinho family, our very own SHINSHOP is an on-line retail platform offering Shinho products as well as other delicious options from quality brands sharing our values.

EXCEPTIONAL FOOD EXPERIENCES

Our desire is to create deep and meaningful experience around food, be it at places for families and friends to unite and enjoy food together or encouraging people to explore food through cooking and bond with each other. Or, it could be something as simple as the delight that surrounds a piece of product packaging or picking your own fresh produce. Food is no longer just sustenance; it is the beauty of living and life itself.

What We Do

Chefs are the creators of this sensational food experience and the pioneers of the healthy life trend. Shinho started the initiative 'Create Magic with Flavours' to find visionary chefs and help them develop into respected Star Chefs.

HOLISTIC FOOD EDUCATION

We want to be more than a food manufacturer and be able to also provide holistic food education. We hope through increased knowledge, consumers' choices will be more informed, their desire to eat right and eat well will grow and they will help influence more people to do the same.

What We Do

Shinho also builds an on-line information sharing platform, Shiyujia, on which you can explore the latest news on food and health improvement. By offering a whole world of knowledge at your fingertips, we encourage you to share the happiness brought to you by food with your loved ones. For you and your family to live a healthy and happy life and feel rest assured at every meal is our unwavering commitment.
TOP