XI GUAN Pineapple Vinegar Drink
Light and tropical energy drink
Make a bottle of 'energy drink' yourself with some XI GUAN CU vinegar when you go out for a picnic. They are low in calories, high in nutrients and pump you up on energy.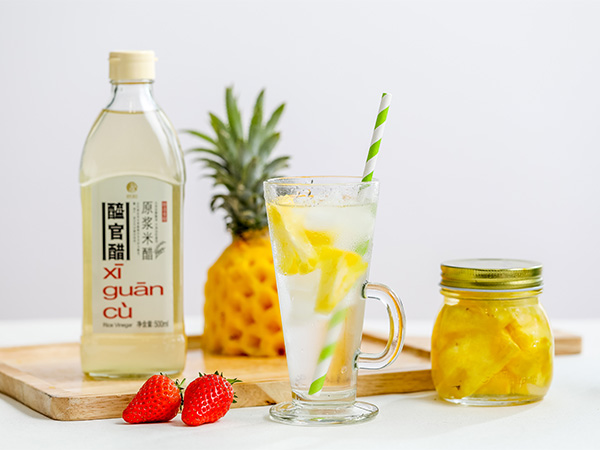 What You′ll Need
Ingredients

| | |
| --- | --- |
| XI GUAN CU Rice Vinegar | 1 One bottle of |
Condiments

| | |
| --- | --- |
| Pineapple | 1 One |
| White granulated sugar | 25 ml |
| Water | 300 ml |
Method
Prepare one pineapple, one bottle of XI GUAN CU Rice Vinegar and one dry and air-tight jar.

Depends on the size of the jar, cut the pineapple into suitable sizes before placing them in.

Fill to the brim with XI GUAN CU Rice Vinegar.

Keep the jar in a cool, dry place for 3 to 5 days. Dilute with water and ready to drink.

Use a ratio of 50mL pineapple infused vinegar, 25mL white granulated sugar and 300mL water.
Tips
After washing the air-tight jar, wash with XI GUAN CU vinegar to take away the extra moisture and reduce drying time.