XI GUAN Strawberry-Infused Vinegar Drink
Sweet romance
From colour to taste, strawberry-infused vinegar is all about sweet romance. The first mouthful would catch you by surprise, like meeting someone for the first time and fall instantly in love.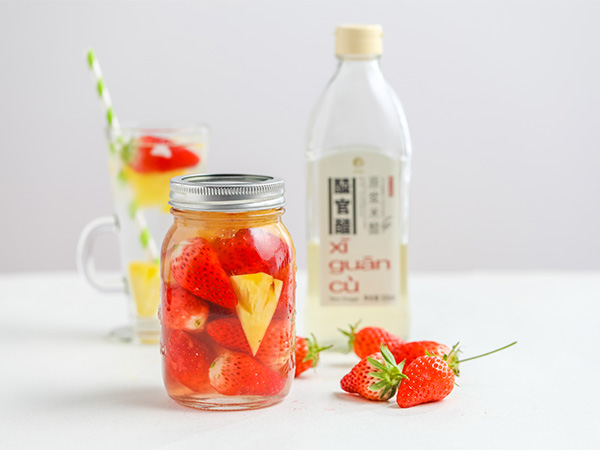 What You′ll Need
Ingredients

| | |
| --- | --- |
| XI GUAN CU Rice Vinegar | 1 One bottle of |
Condiments

| | |
| --- | --- |
| Strawberries | 20 Twenty |
Method
Prepare the ingredients needed to make strawberry infused vinegar.

Remove the stalks of strawberries.

Place them in a dry, air-tight jar.

Add some pineapple slices and crystal sugar; fill to the brim with XI GUAN CU Rice Vinegar.

Keep the jar in a cool, dry place for 15 days. Dilute with water and ready to drink.
Tips
Take 20mL daily and dilute with 5 times more water to drink.