XI GUAN Peanut-Infused Vinegar Drink
Peanuts with a 'sour' twist
In Chinese cuisines, many dishes are made with pickled ingredients; pickled peanut is one of the most popular dishes. Both the vinegar and the peanuts can be used as separate ingredients in cooking. Explore all the infinite possibilities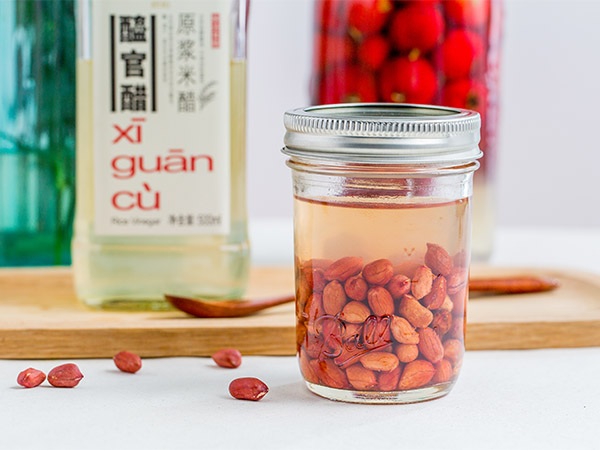 What You′ll Need
Ingredients

| | |
| --- | --- |
| XI GUAN CU Rice Vinegar | 1 One bottle of |
Condiments

| | |
| --- | --- |
| Organic peanuts | 100 g |
Method
Prepare the ingredients needed to make peanuts infused vinegar.

Place washed organic peanuts in a sanitised, air-tight jar; fill to the brim with XI GUAN CU Rice Vinegar.

Keep the jar in a cool, dry place for 45 days. Ready to drink.
Tips
Take 20mL daily and dilute with 5 times more water to drink.
After 45 days the peanuts are ready to eat. It is best to eat three peanuts a day; they can be added to dishes.