Rose and Honey Infused Water
Pink and romantic
Rose-infused vinegar mixed with lemon, honey and warm water to create a drink that has a floral undertone. Every mouthful tastes of rosy fragrance and citrusy sweetness.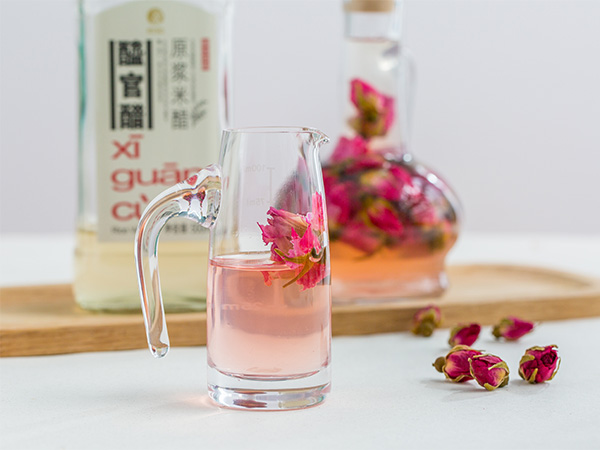 What You′ll Need
Ingredients

| | |
| --- | --- |
| XI GUAN CU Rice Vinegar | 300 ml |
Condiments

| | |
| --- | --- |
| HONA ORGANIC Longan Honey | 150 ml |
| Dried rose petals | 30 Thirty handfuls of |
Method
Prepare the ingredients needed to make the infused vinegar.

Select clean, intact and bright-coloured dry rose petals to be soaked in honey in an air-tight jar overnight. Fill the jar with XI GUAN CU Rice Vinegar to 80% full.

Store for 3 days in a cool and dry place before it is ready. The vinegar takes on a brilliant rosy natural colour thanks to the petals. Take 20mL daily and dilute with 5 times more water, add honey if desired, to drink.
Tips
Select Shandong Pingyin roses or organic roses if you can; try to avoid using roses brought at the florists as the petals could contain pesticides or anti-staling agent residual. It is best to use roses you have grown yourself or edible roses sold in shops. Wash and air-dry the petals before pickling.